Information about Michael Schmidt
Creating a trusting and positive atmosphere is important to me. Because your concern is in the foreground. And together we will find solutions. Whether in an individual session or in one of the seminars.
Michael Schmidt, hypnosis therapist and hypnosis seminar leader. Therapy Practice Hypnosis Zurich.
My training as a hypnosis therapist
In past years I successfully worked in various management positions in Swiss industry and commerce. After my studies in economics, I was fascinated by the world of the unconscious and the mental already in the 90s. My enthusiasm continued. During the last 25 years I, Michael Schmidt, have been intensively trained and educated as a hypnosis therapist.
Hypnosis Training, Level Advanced, Hypnotherapist EZC
Hypnosis Coach EZC
Anglo European College of Therapeutic Hypnosis
Member of the Swiss Professional Association for Hypnotherapy SBVH / APSH
Neuro Hypnotic Repatterning and Designed Human Engineering with Richard Bandler
NLP Master DVNLP (Neuro Linguistic Programming in the German Association)
Hypnotherapist training according to System 23
Time Line Therapy Training
Rhetoric
Past life regression
Shamanism (among others in South America)
personality development
Mental training and lucid dreaming in Germany with Dr. Minister
Motivation trainings among others with Anthony Robbins
Business seminars
Author of books (Golf & Self-Hypnosis and Handbook for Self-Hypnosis, in German)
For many years I have been working independently as a hypnosis therapist, mental trainer, consultant and NLP coach. In addition, I teach people valuable hypnotic and mental tools to improve their quality of life in regular seminars.
Michael Schmidt Hypnosis
Hypnosis and hypnotherapy as I use it has nothing to do with external control or loss of consciousness.

In other words the impressions you have from stage shows and Hollywood comedies do not belong here. You always remain in control during the sessions. For example, you can talk or open your eyes during the hypnosis session, even laugh, lie, move around, etc. Or interrupt the session at any time. And yet it is possible to quickly initiate and experience effective positive changes. It is regularly the case that already in the first session my clients make big and appropriate steps towards optimizing their concerns.
The hypnosis session
You describe your concern. Together we discuss the most suitable approach. After that we do some mental exercises and then I lead you into a light trance. That is, into a hypnotic state. The hypnotic state also called trance is nothing else than when you close your eyes and imagine something. A mental world, just like in a dream. You experience this mental inner world completely protected and under my guidance, so that it then helps you to initiate the change you want. And finally, you decide for yourself how far or how deep you want to go in trance. The depth of the hypnosis is not decisive whether the hypnosis works or not.
The Hypnosis Practice Zurich
My practice in Zurich offers the supportive and calm atmosphere and ambience. Speaking even during hypnosis is possible for you at any time if you want it.
I would not be surprised if you succeed in discovering new resources and abilities already in a first session. Or successfully realize new ways of succeeding or behaving fully automatically in your life.
In the case of difficult health issues, hypnosis is of course only used by me in a supportive manner and in consultation with the attending physician or psychotherapist.
If you have any questions, please contact me at:
Schmidt Hypnosis Practice and Seminars
Michael Schmidt – Hypnosis Zurich
Ilgenstrasse 4
8032 Zurich
Tel. 078 745 90 60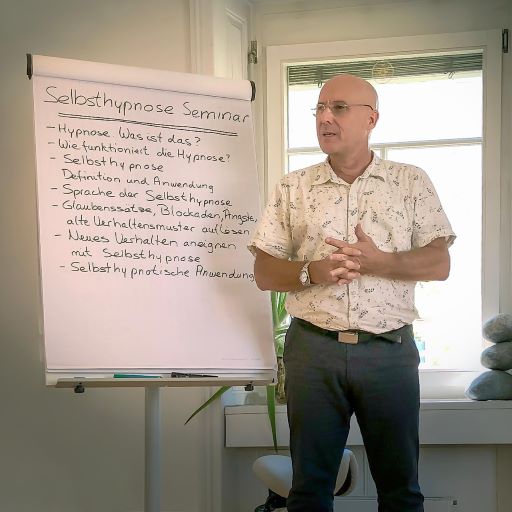 The hypnosis practice is located almost in the center of the city of Zurich. A few walking minutes from Zürich Bellevue.
The practice is also easily accessible by tram/streetcar: Tram line 3 or 8; Römerhof stop or Hottingerplatz stop.
For car drivers, one and two-hour metered public parking is available in the surrounding streets.
My second practice is located in Ticino, near Locarno. Appointments in Ticino only on request.